Stay in the World's 1st Ski-in/Ski-out Treehouses!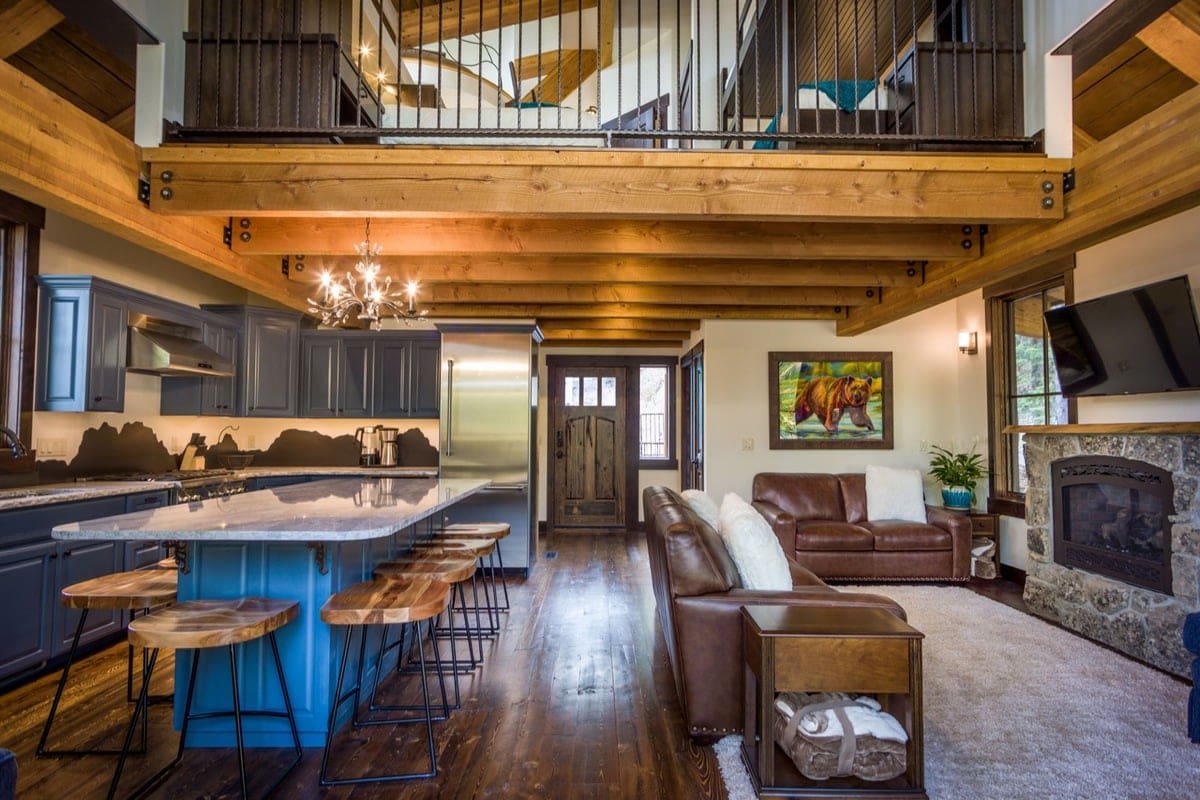 Snow Bear Chalets is a globally acclaimed collection of treehouses, offering luxury accommodations, slopeside at Whitefish Mountain Resort, in northwestern Montana, by Glacier National Park.
Enjoy a luxury vacation treehouse. Just click the BOOK NOW button to see availability, rates and choose which one is best for you and your family. Come live the dream, slopeside at Whitefish Mountain Resort!
Which Accomodation Is Right For Me?
Let us help you find the perfect treehouse for your visit!
The TREEHOUSES…
Each treehouse comes with luxury amenities including a private hot tub and a beautiful gas fireplace framed with Montana Moss stone.
Stunning architecture with expansive windows, an open main level with an overlooking loft, and a beautiful starry turret.
Gorgeous treetop views from the outdoor deck and third floor turret retreat room.
Ponderosa
Literally ON the slope!
Unbelievable slopeside views!
Sleeps 6 comfortably
2 King and 2 Twin beds
2 bedrooms
2 baths
Two levels
3 Night Minimum
From $649 (shoulder season)
LEARN MORE OR BOOK NOW
Tamarack
For a cozy mountain getaway
Less than 30' from the slope!
Sleeps 6 comfortably
2 King and 2 Twin beds
2 bedrooms
2 baths
Two levels
3 Night Minimum
From $599 (shoulder season)
LEARN MORE OR BOOK NOW
Cedar
For a family or group retreat
Less than 50' from the slope!
Sleeps 10 comfortably
2 King and 6 Twin beds
3 bedrooms
4 baths
Three levels
3 Night Minimum
From $749 (shoulder season)
LEARN MORE OR BOOK NOW
What People Are Saying About Snow Bear Chalets
When asked what he thought about the uniqueness of Snow Bear, the world's first ski-in/ski-out treehouses, Sir Richard said, "The best entrepreneurial ideas always start with crazy!"
Malmquist Construction has worked on a huge array of structures in our business over the past 22 years in Whitefish. Never has a structure captured our attention like Snow Bear Chalets. Every day on the job we step back, take a deep breath and smile when we look at the beauty, elegance and whimsical design of these treehouses. Building 25' in the air, with pillars for support, in the middle of winter, right next to a ski slope has been a challenge that we have embraced and enjoyed. We are thrilled to be part of this project. Anyone who stays at these treehouse chalets will have their expectations exceeded at the unique experience that is Snow Bear. Nothing comes close to the well thought out design, quality of construction and amazing feel of these chalets!
Some people dream their lives. Gail and Darryl live their dreams, and best of all, they pour every ounce of creativity and magic into each project they touch. Snow Bear Chalets are enchanting, elevated chalets, caressed by the woods… with just a touch of whimsical. I love how each treehouse chalet offers imaginative living at its finest. Truly a most rewarding experience in a spectacular setting along the chair lifts and ski runs of Whitefish Mountain with views across the Valley. As a real estate broker, I can hardly wait to set up my clients up in these chalets… for two reasons: one, to exceed their Montana expectations in a way that will be everlasting, and two, to have the opportunity to revisit the chalets myself! Walking through Snow Bear Chalets makes me feel halfway to heaven!
As a realtor with Glacier Sotheby's International Realty, I've learned that luxury is not defined by one's income…it is about quality, uniqueness, and ultimately achieving a certain lifestyle. Buyers in this ski resort market are not just purchasing a property, they are purchasing the lifestyle. I believe the same to be true for those that vacation here and for anyone seeking not just a luxury vacation but a luxury experience. I cannot imagine locating accommodations more unique than what Snow Bear Chalets has to offer at Whitefish Mountain Resort!
Mountains, nature, trees and treehouses… in my mind and heart it doesn't get more profound than that. Through Nature we can connect and see the world and our connection to it in a simple way. What better place than in these treehouse chalets to feel our connection to Mother Earth. I have not experienced anything quite as peaceful and luxurious as my time here. Thank you Gail for bringing this into our lives.
Over my 32 years as a local community banker, the Snow Bear project is my all-time favorite. When I think of Snow Bear, I think of one word: "FUN". Gail's vision is a storybook tale which one can experience in one of the greatest places in the world. Where else can a person experience the grandeur of Glacier National Park, boat on our many lakes and streams, hike through our vast forests, catch trout in our pristine rivers, ski on some of the best snow and now stay in a luxury world class ski-in/ski-out treehouse! Whatever one chooses to do in Northwest Montana's outdoor paradise, including a stay at Snow Bear will be an experience of a lifetime!
Snow Bear Chalets are a uniquely beautiful addition to Whitefish Mountain Resort. These treehouse chalets remind me of my childlike wonderment of what it would be like to live in the trees.
Brand New Luxury Ski-in/Ski-out Treehouses Each With Private Deck & Hot Tub!